D50(48") - Philips Master 36W/950 Deluxe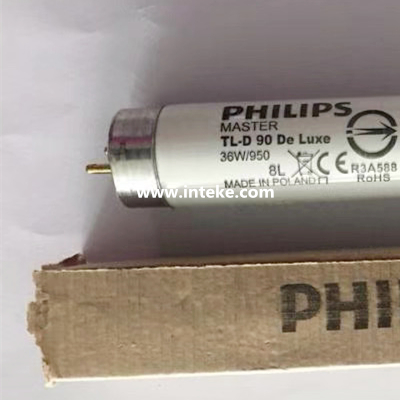 D50(48") - Philips Master 36W/950 Deluxe
Product Information
Brand: philips
D50 Lighting for graphic and photographic applications.
Light sources description: D50 – Color Proof "Artificial Daylight" for graphic and photographic applications., color temperature is 5000K. CIR is 98.
INTEKE also specialized in international standard lamp import, wholesale and retail such as daylihgt D65, D50, D75, CWF(F2), F, Inca(A), UV, U30/TL83(F12), TL84(F11), U35, Horizon, etc. All color matching lamps provided by global famous manufacturers such as Philips, VeriVide, GretagMacbeth, GE, Sylavania, Osram, and more.
All the lamps with high quality, competitive price. Serve customers with absolutely no imitations. To ensure the high quality of our Color Light Box, INTEKE only use the above famous brands lamps as our light sources.
Some of the D50 lamps as below:
D50 – GretagMacbeth 5000K F20T12/50
D50 – GretagMcbeth 5000K F40T12/50
D50 – Philips Master 18W/950 Deluxe
D50 – Philips Master 36W/950 Deluxe
D50 – Philips Master 58W/950 Deluxe
D50 – Philips TL-D 90 18W/950 Graphica
D50 – Philips TL-D 90 36W/950 Graphica
D50 – Philips TL-D 90 58W/950 Graphica
D50 - F17T8/GL50
D50 - F25T8/GL50
D50 - F32T8/GL50
D50 - F58T8/GL50
D50 - F20T12/GL50
D50 - F40T12/GL50
D50 - Sylvania F025/950
D50 - GE F25T8/XL/SPX50/ECO
For more lamps infromation, please contact us inteke@gmail.com or inteke@vip.163.com
Related Products