X-Rite 500 Series Color Reflection Spectrodensitometer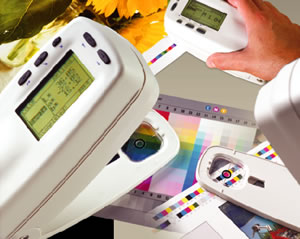 X-Rite 500 Series Color Reflection Spectrodensitometer
Product Information
Brand: X-Rite
Frank Burgos has been involved in the flexographic printing industry since 1980, as a press operator, supervisor, operations manager, consultant and business owner. Here's what he has to say about the differences between the X-Rite 500 Series instruments:
X-Rite 504
Use the 504 to measure density of CMYK colors. This is an entry level device, and does not measure dot area or dot gain. If you're happy controlling just density, this is for you. 3-year warranty

X-Rite 508
The 508 measures the density of the CMYK colors, like the 504, but it also measures dot area and dot gain. This is the minimum for folks who want to apply curves to output films/plates. 3-year warranty

X-Rite 518
The 518 measures density, dot area, and dot gain, like the 508. However, press operators can also monitor trap and contrast and make needed adjustments during press runs. More applicable to the offset folks. 3-year warranty

X-Rite 528
The 528 starts to kick things up a serious notch. It measures custom colors, like customer logos and spot colors. It includes a digital version of the Pantone library of colors, built in, which means the Pantone colors never drift or fade, unlike the familiar color charts and chips. It also allows you to compare and match colors between color sample or ink drawdown and the printed product. The 504, 508, and 518 cannot do this. This is the minimum device I recommend for a flexo pressroom. 3-year warranty

X-Rite 530
The 530 is the Gorilla of color measurement, in my book. This device does everything the 528 does, but it also allows you to connect to a computer and interface with color quality control software, such as QA Master. This is what I use, and what I recommend for anyone in any pressroom, big or small. The combination of a 530 and QA software is for the folks who are serious about color matching and monitoring. Your customer will appreciate the accuracy and consistency of color. If you're not going to use the software, however, stick with the 528. 3-year warranty

The Ultimate Solution for Process and Special Colors

A high performance spectral engine gives X-Rite's 528 Spectrodensitometer the ability to measure both density and colorimetry functions. Since spectrophotometry is the newest and most precise color control technology available today, the result is an accurate, versatile, efficient instrument capable of keeping both process and special colors on target.
Advanced Color Control in the Pressroom
Why juggle several instruments when just one fulfills all your pressroom proofing and color quality control needs? The 528 combines the capabilities of a high-end densitometer and a high-end colorimeter into a single unit. You can use the same instrument anywhere in your production process.
On 4-color jobs, the 528 delivers familiar functions like density, dot gain, trap, print contrast, gray balance, hue error, and more. Switch on-the-fly to colorimetry functions like L*a*b*, Yxy, and L*C*h° and more when you need quality control for pastels, Hi-Fi, PANTONE® and other special colors.
Special Color Compare and Match Functions
The 528 has color compare and match functions unique to X-Rite instruments. Measure up to 24 references and select the type of comparison for each. The 528 automatically compares a sample reading to the closest reference and displays the results. With the Match function, you can make a measurement and find the closest color match in your own reference library or one purchased from X-Rite. In addition to a color name or color value, a formula for the color may also be displayed.
Used in conjunction with ColorMail® Express and a PANTONE® Digital Library, you can quickly and easily identify colors from existing jobs, as well as make sure that the colors you are printing match the requirement. Up to 1400 total references may be stored in the instrument database at one time.
User Interface
Sharp/reversible display
Left- or right-hand operation
Interactive Menu and Key System
Clear recognition of function when measuring
Auto Color Select
High Resolution LCD Display
Multiple Languages Supported
Calibration Alert Feature
Security
Lock out of specified functions
Lock out of configuration menu
Security cable (optional)
Density Features
Density (absolute or minus paper)
Density Difference (16 ref. values)
Dot Area (Tone Value)
Dot Gain with Triple Reference
Print Contrast
Apparent Trap
Hue Error/Grayness
High-precision data format feature
Electronic Function Selection (EFS)
News Mode
Selectable User Configuration
(US, Euro, NewsBalance, News3-Color)
Selectable Status Responses
(T, E, I, A, G, Tx, Ex, Ax, Hi-Fi)
Colorimetric Features
Lab (CIE or Hunter), L*u*v*, Yu*v*
L*C*h°, XYZ, Yxy
DeltaE (ab), CMC, and CIE'94 tolerancing
High precision data format feature
Color Compare with up to 24 references
On-screen graph of L*a*b*
Match
Related Products