SpectraLight III Color Viewing Booth/Color light box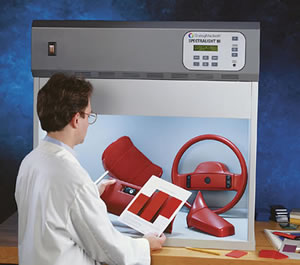 SpectraLight III Color Viewing Booth/Color light box
Product Information
Brand: Xrite
Faster Color Viewing Using The World's Most Accurate Daylight Simulation
The GretagMacbeth SpectraLight® III color viewing booth features innovations designed to increase productivity and reduce costs, while providing the world's most accurate simulation of natural daylight. The new SpectraLight III SmartLogic technology delivers accelerated throughput with faster color approvals. And a new user-adjustable color temperature feature lets you benefit from sizable reductions in recertification costs.
Rapid, Simple Programming For Hands-Free Operation

SpectraLight III offers a new level of convenience and productivity in color evaluation. Using the booth's digital display, you can easily program a sequence of different light sources for hands-free viewing. This innovative capability saves time, maximizes sample throughput, and helps prevent operator fatigue.
You can preset any combination of six light sources — Daylight (choice of D75, D65 or D50), Illuminant A (home lighting), Horizon, Ultraviolet (two levels) and new dual fluorescent sources (choice of TL84 or U30). The choice of a specific daylight source and custom fluorescent should be made based on the standard governing your industry or application:

• Simulated Daylight
D75 North Sky Daylight at 7500K is used for visual evaluation of opaque material as outlined by ASTM D 1729.
D65 Average North Sky Daylight at 6500K is used to provide visual correlation with spectrophotometric readings or in conformance with Automotive, Textile, European or Japanese standards.
D50 Noon Sky Daylight at 5000K is used for the evaluation of color quality and uniformity in conformance with ANSI and ISO specifications governing the graphic arts.

• Custom Fluorescent
TL84 at 4100K is a commercial narrow band fl uorescent used in Europe and Asia.
Ultralume 30 (U30) at 3000K is a commercial narrow band fluorescent used in the U.S.
Note: Meets ASTM, ISO, and DIN standards. Daylight filters and a full complement of lamps are included with all units. Assembly required for the viewing booth version (VB). The overhead luminaire version (OVHD) is a single overhead luminaire. The dual version (DUAL LUM) includes two (2) units that are wired/operated together and a tethered remote control is provided.
Better Color Control With Lower Cost

Another SpectraLight III innovation — user-adjustable color temperature — permits easy calibration utilizing a single button. This same feature, when used with a traceable spectroradiometer, enables you to self-certify your viewing booth, potentially saving thousands of dollars in recertification costs.
Realize additional savings with the SpectraLight III automatic energy-saving mode. Together with the unit's SmartLogic, this feature significantly extends lamp life. And there's no more guessing about lamp replacement: An easy-to-view elapsed-time meter reminds you when it's time to perform this necessary maintenance.
The Unrivaled Standard For Accurate Color Evaluation
The patented filtered tungsten technology delivers the world's most accurate simulation of natural daylight. SpectraLight III meets or exceeds all major international standards for visual color evaluation.

Specifications


Each Luminaire
Each Booth
Dimensions
Height: 9.5" (24.1 cm)
Width: 37.1" (94.2 cm)
Depth: 25.7" (65.3 cm)
Height: 27.5" (69.9 cm)
Width: 37.1" (94.2 cm)
Depth: 24.4" (62.0 cm)
Weight
Shipping Weight
92 lbs. (41.7 kg)
107 lbs. (48.5 kg)
154 lbs. (69.9 kg) (including luminaire)
194 lbs. (88 kg)
Electrical Power
Dedicated 20 amp line and 20 amp line protection configured receptacle, 117 VAC. Maximum 2000 watt power required for proper operation of 110 VAC and 117 VAC units.
100/117 VAC ± 10% 50/60 Hz (5-20P plug)
220/240 VAC ± 10% 50/60 Hz (CEE 7/4 plug)
Lamp Complement
D75/D65/D50 Daylight: Two (2) 750 Watt Tungsten Halogen
Horizon Light: Four (4) 500 Watt Tungsten Halogen
Illuminant A: Two (2) 150 Watt Tungsten Halogen
Cool White Fluorescent: Two (2) F30T8/CWF
Ultraviolet: Two (2) F30T8 BLB & One (1) F6T5 BLB
Related Products