Fabric Weight Balance Schroder-GSM200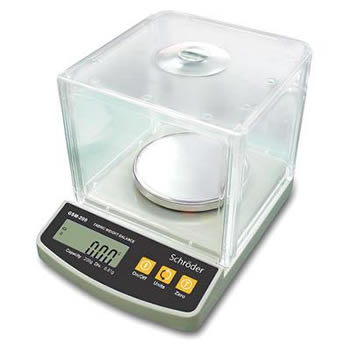 Fabric Weight Balance Schroder-GSM200
Product Information
Brand: Schroder
Brand:Schroder
Name:Fabric Weight Balance
Model:GSM200

Application:A balance to perform simple weighing tasks, suitable for factory or laboratory use. When used in conjunction with the Fabric GSM Circular Cutter are weight in g/m2 or oz/yd2 can be obtained.
• Germany Brand, easy operation and economically.
• Built-in four display units : g, g/m2, oz, oz/yd2
• Max. Capacity : 200g x 0.01g, 20,000g/m2 x 1 g/m2, 7oz x 0.0005oz, 590oz/yd2 x 0.05oz/yd2.
• Platform size : Diameter 100mm.
• Completed with plastic wind shield.
• Packing size (cm) : 26 x 17 x 12, weight 1.2kg
12VAC - 150mA Adapter or 6 x AA Batteries.
Standrads:
ASTM D2646、D3776、BS 2471、3424、BS EN 12127、GB 4669、ISO 3801、IWS TM13、JIS L01018、L1096、M&S P65、P65A,etc
Related Products