Raytek MiniTemp MT4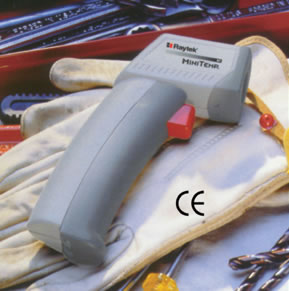 Raytek MiniTemp MT4
Product Information
Brand: Raytek
Raytek MiniTemp MT4
Non-Contact InfrarRed Thermometer
Temperature range: -18 to 400 °C (0 to 750 °F)
Laser Targeting
Distance-to-spot: 8:1
Backlit display
Selectable °C or °F
Optional wrist strap and soft carrying pouch
Raytek MT4 MiniTemp is pocket-sized and easy to use - just point, shoot and read the temperature on the large backlit display. When you need a fast, easy, safe way to measure surface temperature, you need a MiniTemp non-contact thermometer. Use MiniTemp at work, at home, anywhere.


The MiniTemp MT4 has with laser sighting for aiming accuracy. It is powered by a 9V battery and display temperatures in either °C or °F. An accessory pack including a pouch and wrist strap is also available.
Applications
Automotive: Troubleshoot engines including ignition system problems and fuel/air adjustments. Diagnose cooling systems including thermostats and coolant sensors; radiators; brakes; and tires.
HVAC: Balance room temperatures, monitor supply/return registers, check furnace performance, perform energy audits, and check window insulation.
Electrical: Check electrical panels for hot spots, find defective transformers, and detect loose electrical connections.
Food Safety: Check holding, serving, and storage temperatures, maintain freezers, ovens, ranges, and dishwashers.
Hundreds of work, home and recreational applications.
Related Products