Kodak Color Separation Guide and Gray Scale(Kodak Q-14)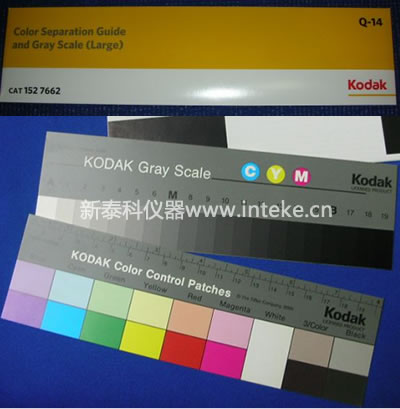 Kodak Color Separation Guide and Gray Scale(Kodak Q-14)
Product Information
Brand: Kodak
Kodak Color Separation Guide and Gray Scale (Large) Q-14. These official Kodak Color and Grey Scales are 14" x 3.5".
The Kodak Gray Scale is a quality control device of stepped, neutral values to help the photographer (1) compare the tone values of reflection originals with the tone values of the reproduced image, (2) compare exposure and processing in a photographic environment so that changing conditions can be identified, measured and controlled, (3) "balance" negatives and positives in a traditional color reproduction process that requires the use of masks, separation films, and filters, and (4) determine values for plotting tone-reproduction curves.
Kodak Color Control Patches help the photographer compare the color of the subject with known printing colors. They also help the graphic arts camera or scanner operator identify color separation negatives and positives for color reproduction processes. They consist of RGB, CYM, black, white and grey swatches in addition to a grey scale.
Camera Assistants routinely cut the gray scale and color bars and paste them on their camera slates. This gives the lab an accurate way to color correct a timed print.
Ideal for placing next to original art work when photographing for reproduction, or for use in motion picture cinematography.
Click on the pictures for large and sharp images.
CAT 152 7662

Related Products