HT series electronic balance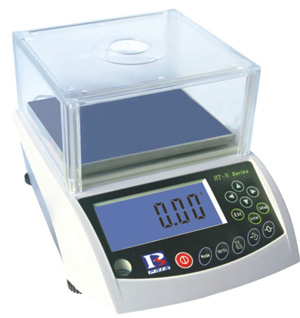 HT series electronic balance
Product Information
Brand: INTEKE
Accuracy: 0.01g, 0.1g.
Weighing range: 300g, 600g, 1000g.
HT series electronic balance Description:
- Accurate and reliable measurement with high delicacy.
- Convenient maintenance.
- Confirms to international OIML standard.
- Certified and authorized by China Quality and Technology Supervision Bureau.
- Suitable for electronics, metals, chemistry, plastics, food, tobacco, medicine, scientific research, hardware and automatic production line.

HT series electronic balance Product info

> Internal resolution approaching 600,000.
> 13 weighing units.
> Linear emendation
> Auto / hand-operated Backlight settings.
> Low voltage warning & Power off protection.
> Convenient external emendation.
> Dimensions: 20.6(L)*17.5(W)*56(H)cm
> Scale pan dimensions: 11.6cm/12.4*14.4(W)cm
> 4pcs C-size batteries or DC9V/300Ma (AC 220V)
Model

HT-100

HT-150

HT-200

HT-300

HT-600

HT-1500

HT-3000

Division

0.01g

0.01g

0.01g

0.01g

0.02g

0.05g

0.1g

Temperature

-10°C~+°C

Display

5 1/2 LCD display,3 modes of backlight

Units

g,ct,lb,oz,dr,GN,ozt,dwt,MM,tl,J,tl,T,tl,H,t

Overload

Max weight +9d

Power supply

AC220V,DC9V,300mA regulator,or 4pcs C-size dry batteries.

Scale pan

(round)116mm (square)144x124mm

Exterior dimensions

175x56x220mm
Related Products