HP200 Sphere Spectrophotometer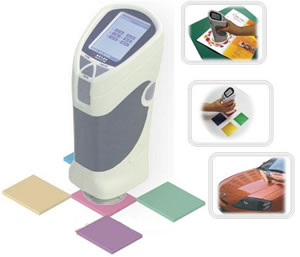 HP200 Sphere Spectrophotometer
Product Information
Brand: HANPU
HP200 portable sphere spectrophotometer, designed by Tsing Hua University, can measure the values of L, a, b, ΔL, Δa, Δb and ΔE.
Features:

1) Easy to read, large graphical LCD display with 2.4'' colorful LCD screen.

2) Easy to connect with PC, humanity operation interface. Operating independently is also available.

3) Permits quick measurement and comparison of two colors without need to create color tolerances or store data.

4) Multiple color standards can be collected under an identified project as part of color standards programs.

5) Three kinds of light sources for selection, SCI and SCE mode switch and metamerism analysis meet different conditions and enable to determine the influence of the specular component.

6) Color tolerance can be freely set and stored for easy "pass/fail" measurement with intelligent auto-judge system.

7) Professional color analysis software provides you with the functions of color data analysis, color formula and color matching.

8) Versatile use for lab, plant or on-site operation.
Software features:
The software interface of the sphere spectrophotometer is simple and full-functions, suited to color analysis and color difference data output. Including:
Standard values data bank.
Single and repetitious test mode.
Color simulation.
Color space diagrammatic sheet.
Color difference curve and color test report.
Technical Data:
| | |
| --- | --- |
| Repeat accuracy | 0.008(Test the standard white calibration plate for 30 times to get the average value.) |
| Lighting /inspecting system | 8/d(8° Falloff/diffuse reflection), SCI (include Flat mirror Light), SCE (eliminate Flat Mirror Light) |
| Light source | White light source |
| Inspection angle | 10° Angle of view in CIE |
| Inspection conditions | D65, D50, F11 |
| Rectification | White board rectification ,black board rectification |
| Storage | 12 groups of standard samples , and it can keep 30 groups of sample values under every standard sample |
| Display | L, a, b, ΔL, Δa, Δb and ΔE / L, c, h |
| Language | Chinese and English |
| Test Caliber | ø8mm |
| Power | 4 pcs of batteries, Voltage of 220v/110v with adapter is also available. |
| Weight | 550g |
| Dimension | 77× 86 ×210mm |
Goods in stock.
Newly-designed by Chinese Scientists. EXW Unit Price: U$1890.00
Related Products