HD026D Electronic fabric strength tester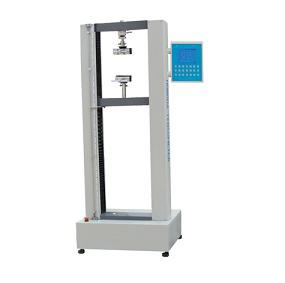 HD026D Electronic fabric strength tester
Product Information
Brand: HONGDA
Used for testing the mechanics properties of different woven fabric and non-woven fabric made of all kinds of material,it is all functional tester,such as elongation at specified speed,load at specified elongation,elongation at specified load and tear,peel,burst,joining-force, elastic recovery, creep, etc.
Core parUsed ts adopting foreign foreign parts,Adopting modularized design in order to enlarge its functions. and used extensively,high function-price ratio.
It's firmed load supporting system is made up of precision thick stick and high precision axletree. And closed loop ,low noises,steady drive system adopting AC servo system.
Over-long available range can meet all kinds of material testing request.
Controlled by microcomputer,displayed by big LCD,supported by Chinese-English menu switch,Human-machine interactive dialog operation,multi-character input mode,showing figure,having break-off electricity saving function,printer outputs Chinese or English report forms and figure.
Providing over-loading and over-range protecting-mode,is safe and reliable.
Based on different testing request,can choose various clamps,Pin-connecting technology ensure clamps switch quickly and briefly in different testing.
Through high speed USB port, can communicate with computer online directly.Providing detailed on-testing and historical data,report forms and graph,setting up database.
Standards:GB/T3923.1,3923.2,3917.2, 3917.3,19976;FZ/T01031,01034,01085,20019,60005,60026,70006,70007;ISO4606,13934.1,13934.2,13935.1,13935.2,11857;ASTM D434,D1578,D1682,D1683, D1775,D2261,D3107,D3787,D4033,D4964,D5034,D5035。

Related Products