FORMULA GUIDESolid Coated & Solid Uncoated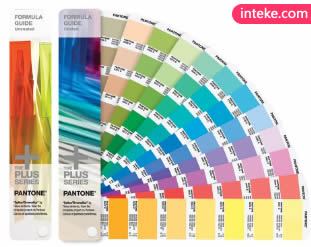 FORMULA GUIDESolid Coated & Solid Uncoated
Product Information
Brand: PANTONE
The "must have" guides for designers, printers and color decision makers – now with 84 brand-new Pantone colors!
PLUS SERIES FORMULA GUIDES for selecting, specifying and matching solid PANTONE Colors feature 644 new PMS colors included since 2010 - with 84 added just this year. The new Pantone Matching System colors for 2014 fill out our expansive palette with beautiful new Blushes and Pinks, and clean and vibrant new Blues, Greens and Violets. Graphic designers, pre-press professionals and printers now have a total of 1,755 color choices to unleash their passion and let their creativity soar!
Also new this year are Artist Edition Covers. We selected an artwork from a member of our PANTONE CANVAS Portfolio Sharing community and segmented it to create seven new inspirational covers. Purchases of the FORMULA GUIDE Set will receive a random combination of two covers that will add vibrant splashes of color to any workspace.
PANTONE is the only internationally recognized color communication system. You can specify PANTONE Colors with confidence even if your manufacturing is half a world away.
All new colors have been specially formulated to print using a uniform ink film thickness, making them easily matched on press. Ink formulations are provided to aid printers in mixing colors. Includes color index, lighting evaluation tool and software to update your design applications with the latest colors . Set of two guides, coated and uncoated, comes in a limited-edition gift box.
This product includes a free download of PANTONE COLOR MANAGER Software, a $49 value, upon product registration.
FEATURES
1,755 solid PANTONE PLUS Colors
Portable fan guide format
Text-weight paper
PANTONE COLOR MANAGER Software for updating PANTONE Colors in popular design applications
Ink mixing formulas in parts
Color locator index
Each color identified with a distinct PANTONE Number or name
Colors bleed for ease and accuracy in checking colors
Includes ColorChecker® Lighting Indicator to aid in lighting evaluation
Limited-edition gift box
Related Products