Pantone FORMULA GUIDE Solid Coated & Solid Uncoated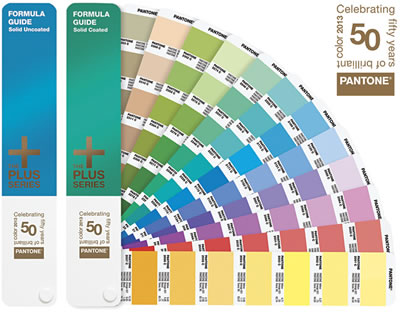 Pantone FORMULA GUIDE Solid Coated & Solid Uncoated
Product Information
Brand: PANTONE
PLUS FORMULA GUIDE
Pantone code: GP1401
50th Anniversary Edition
Easily identified by their brilliant metallic covers, this limited edition release to celebrate the 50th Anniversay of PANTONE in 2013 is now available.
The PANTONE PLUS Formula Guide contains a full range of 1,677 colours including the 336 new solid vibrant colours which were issued as a supplement in 2012, with corresponding ink mixing formulas in parts and percentages.
Colours are chromatically arranged for ease of selection with the newest colours arranged at the back of the book in this edition.
The PANTONE PLUS Formula Guide provides a consistent method for selecting and matching solid PANTONE Colours.
Its simple design provides a convenient and portable colour reference library that can accompany you at client presentations or on press runs. Formula Guide includes an RGB icon indicating colours achievable on-screen. Colours that bear both the RGB and CMYK icons are ideal choices for designs that will span cross-media.
Features:
1,677 solid PANTONE Colours, including 336 new colours.
Chromatically arranged for more intuitive colour selection.
Formulated with 18 base inks.
Easy-to-use fan format, includes an index.
Ink mixing formulas in parts and percentages.
Each colour identified with a distinct PANTONE Number or name.
New colour numbers run between 2001 and 2336, old Matching System colours retain the same number.
Icons are shown beneath each colour that can be satisfactorily reproduced in CMYK and/or RGB.
Printed on text weight, FSC-certified paper stock.
ColorChecker Lighting Indicator has been formulated for better performance.
Benefits:
Eliminates guesswork in colour selection and verification.
Broad range of chromatic and neutral colours thoroughly cover colour space.
Convenient, portable size.
Fan format makes it easy to locate desired colours.
Easy to communicate colours by distinct number or name.
Shows the effect of coated and uncoated stocks on each colour.
New colours printed with uniform ink film thicknesses for easy matching on press.
System supported by worldwide network of PANTONE Licensed Printing Ink Manufacturers.
Text weight paper stock gives closer matching to today's printed work.
The Pantone Formula Guide, Code GP1401, is a two-guide set containing 1,677 PANTONE Colours on coated and uncoated stocks.
Related Products