CM-3600d color evaluation,color matching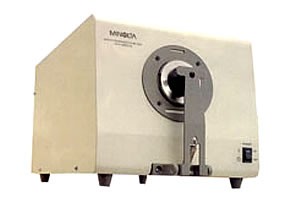 CM-3600d color evaluation,color matching
Product Information
Brand: Konica Minolta
Description:This unit is a desktop spectrophotometer with accurate color measuring system. By using the PCQC color management software, CM3600d can help you to achieve more requirements on color control matters. And thus you can become more outstanding on quality improvement and product competition.
- After having measured the sample, CM3600d can then give the glossiness. User can choose a color effect with reflex or with no reflex.
- CM3600d can measure all colors including transparent color, fluorescent color and metallic color.
- Offering small/medium/large size measuring apertures for customer's choice.
Application: CM3600d is widely used in almost all color-related industries. This spectrometer is also compatible with CCM computer coloring system.

Specifications
Optical system

Reflectivity: d/8, confirms to ISO 7724/1, DIN 5033 part7 and JIS Z8722 C
Transmission: d/0, confirms to CIE No. 15, ASTM E1164 and DIN 5033 part3.

Wave Length

360nm-740nm

Interval

10nm

Reflectivity

0~200%; Resolution:0.01%

Light source

Pulse xenon arc lamp (x4)

Measure time

1.5 seconds

Minimal interval

5 seconds

Repeatability error

Reflectivity: standard deviation within 0.1%
Chromatic aberration: Standard deviation within Æ *ab 0.02 (Measure 30 times with 10 seconds interval by white board measurement)

UV adjustment

Instant digital adjustment

UV filter

400nm filter,420nm filter

Power supply

AC 120V/230V (50-60Hz)

Standard accessories

Standard whiteboard,object cover, zero-regulator box, AC adaptor, RS-232C cable, fitting box, and anti-dirt cover

Optional accessories

Liquid sample rack, standard liquid container(2mm/10mm/20mm)
* Specifications are subject to change without any prior notice.
Related Products